Barcelona's biggest street party is just round the corner! The Fiestas de Gràcia involve 8 days (and nights) of pretty much solid partying. Each August the usually tranquil Gràcia village district erupts into a carnival-like display of decorated streets. Residents compete for the prize of 'best decorated street', themes can involve anything from Alice in Wonderland to Picasso to Pirates of the Caribbean.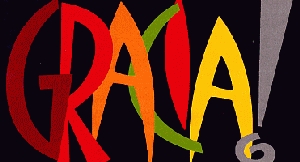 So even if you are visiting Barcelona with your family and do not feel like dancing till dawn it is still worth passing through Gràcia in the daytime, the Fiestas are a family affair and activities such as concerts, bouncy castles and traditional Sardana dances are on offer, as well as the nocturnal music, drinking and dancing. Catalan traditions are well represented. Correfocs are a street level firework display accompanied by plenty of merriment. Geants feature heavily too, huge model heads with a person inside, modelled on anyone from important figures from Catalan history, to local politicians, to Barack Obama! Castellers are human pyramids, these can reach up to 5 levels high and no safety net is used.
The Festes de Gràcia form an assault on the senses, and offer an insight into Catalan culture, as well a lots of plain simple fun. You can experience this authentic Spanish street party throughout the district of Gràcia between the 15th and 21st of August.
Gràcia is a fashionable area of Barcelona, popular with residents and visitors alike all year round. Formerly an outlying village, Gràcia retains its traditional atmosphere and pedestrian streets and squares despite having been swallowed by the city in the late 19th century. We offer a selection of apartments in Gràcia, Barcelona.